Hotel El Rancho is a dazzling mix of colors, materials and furnishings. As Jack Corgan, the hotel's original architect recalled years later, Griffith ordered "a Ranch Style architecture, compatible with the rugged country surrounding the pioneer town of Gallup." Well done Jack! Local stone and hand-hewn beams are featured in the lobby with its oversized fireplace, curved staircase and balcony. No two guest rooms are identical. But each is furnished with eclectic western décor in keeping with Griffith's original vision.
Roy Rogers Suite
Great for families. Accommodate up to 6 guests with one king bed and two queen beds. Each of the two bedrooms has lounge seating. Includes a small kitchenette with a dining table. This second floor Suite has a private balcony. Traditional western décor completes this authentic El Rancho experience.
Presidential Suite
Stay like the celebrities did. Accommodates two guests with a plush king bed and separate lounge area. Classic southwestern colors, textures and materials. Larger bathroom with original stone veneer and blue tile walls. The Presidential Suite is ideal for creating your own western getaway.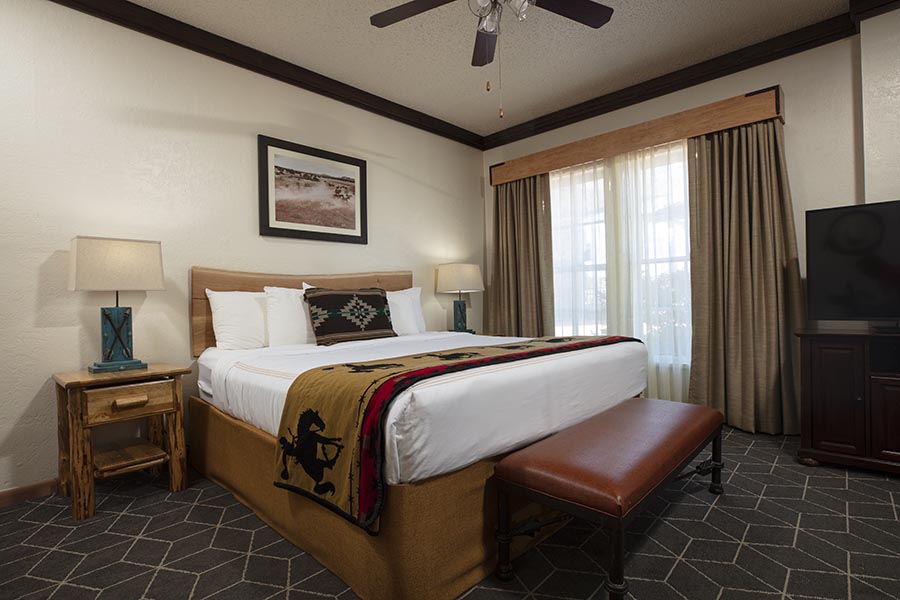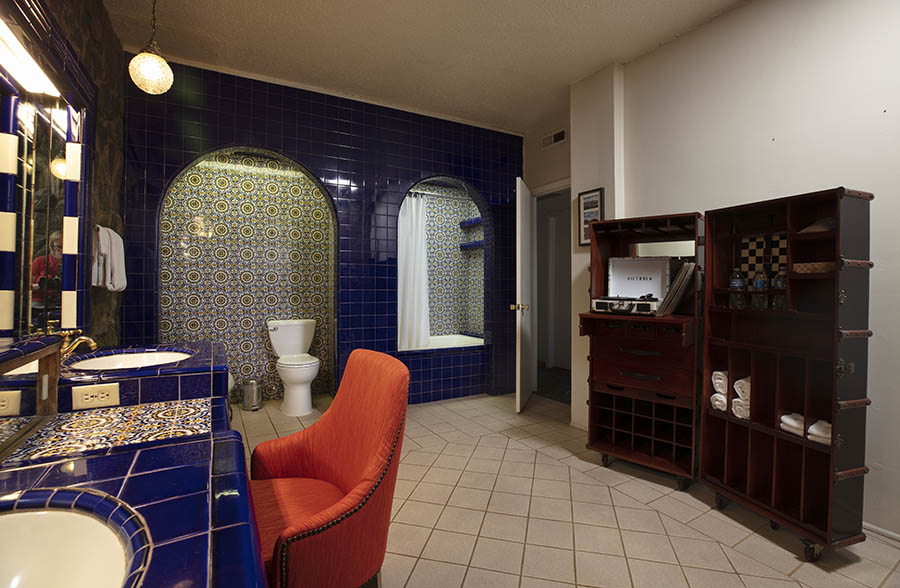 The John Wayne Suite
As the story goes, when The Duke checked in, he insisted two rooms be joined to create accommodations more to his liking. Old-timers say he even dictated the furnishings! Today the John Wayne Suite pays homage to Hollywood's most famous cowboy. Open floorplan, high ceilings, large windows and hardwood floors. French doors open to the pool. Lounge area with pull-out sofa. Separate sleeping area has a king size bed with a mattress topper for extra comfort. Fully equipped kitchen, plus a stacked washer and drier.
All our rooms include free Wi-Fi, HDTV, complimentary in-room bottled water, coffee and tea.
Motel Rooms & Suites
Get your kicks on Route 66! Newly renovated and colorfully Route 66, Motel El Rancho is a landmark destination with all the amenities of Hotel El Rancho at your doorstep. Featuring plush king rooms, double queen rooms, and connecting room suites. Rooms and suites accommodate two to six people.
Furry Friends Allowed
We're pet friendly! $25 fee per pet. Pets must be less than 35 pounds. Maximum of 2 animals per room. (Service dogs regulated by the ADA are exempt from restrictions and fees). Should there be any damage or excessive cleaning needed after you check out, we'll assess the charges at that time and bill your credit card. Please notify us prior to check in if you are traveling with your pet. Cats, lizards, birds, etc. not permitted.

"Whenever I'm caught between two evils,
I take the one I've never tried."
Mae West