The Silver Screen
The original ranch-style dining room with high ceilings, exposed wood beam trusses and rustic cowboy décor. The Silver Screen takes an uncomplicated approach to familiar favorites with an emphasis on traditional Southwestern flavors. It's a fun, casual setting so you can dig in after a day of exploring National Monuments and Native Pueblos or get off on the right foot for a new day's adventures.
Hours
We're open seven days a week for visitors and neighbors alike, from 7am to 10pm.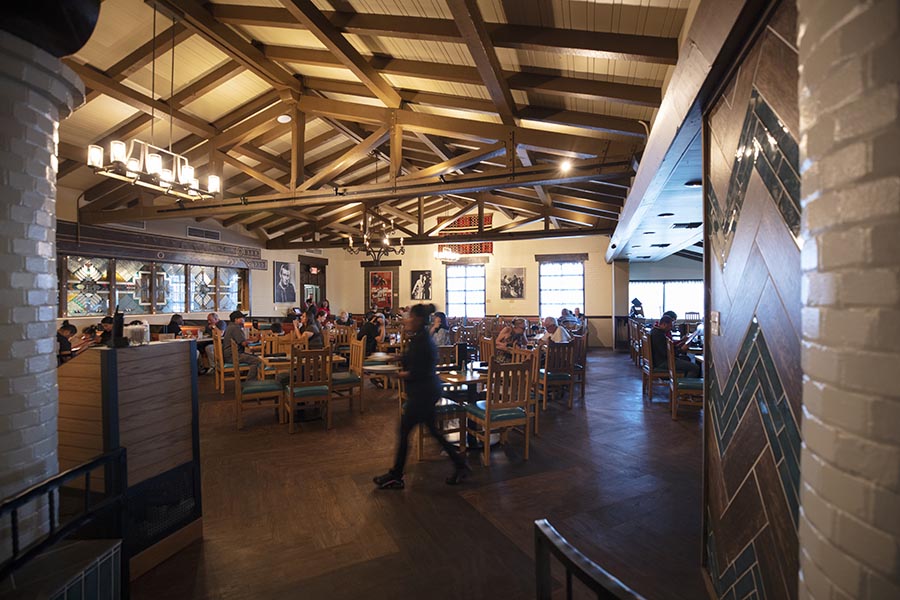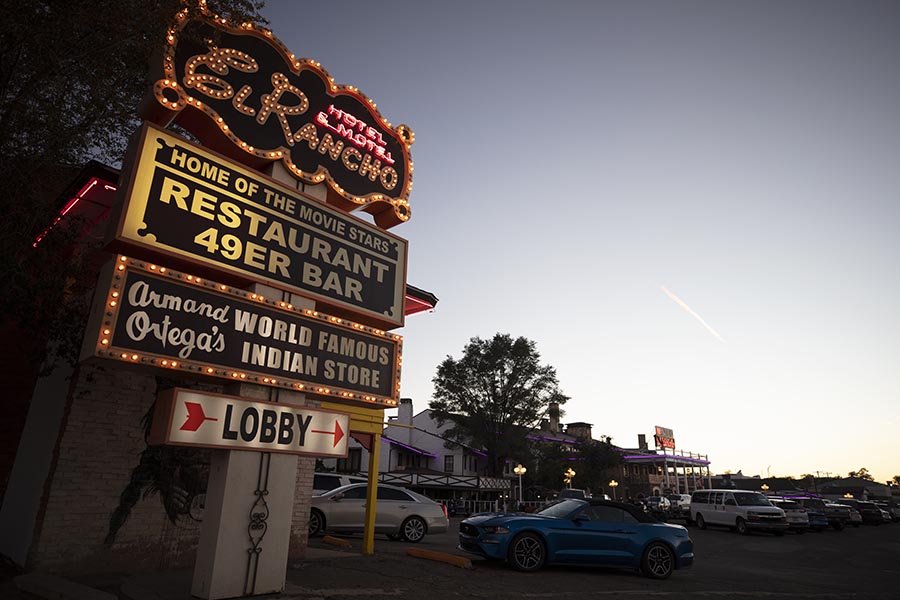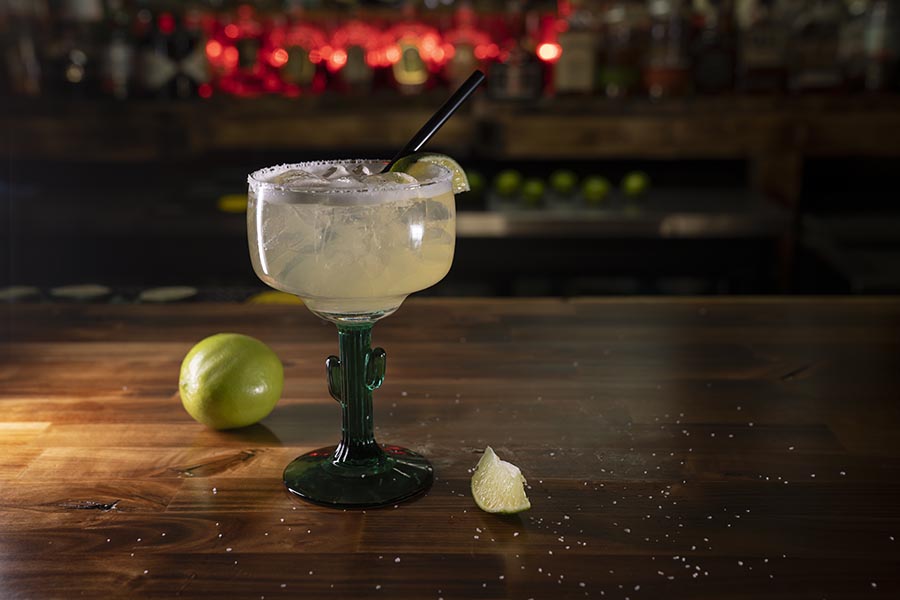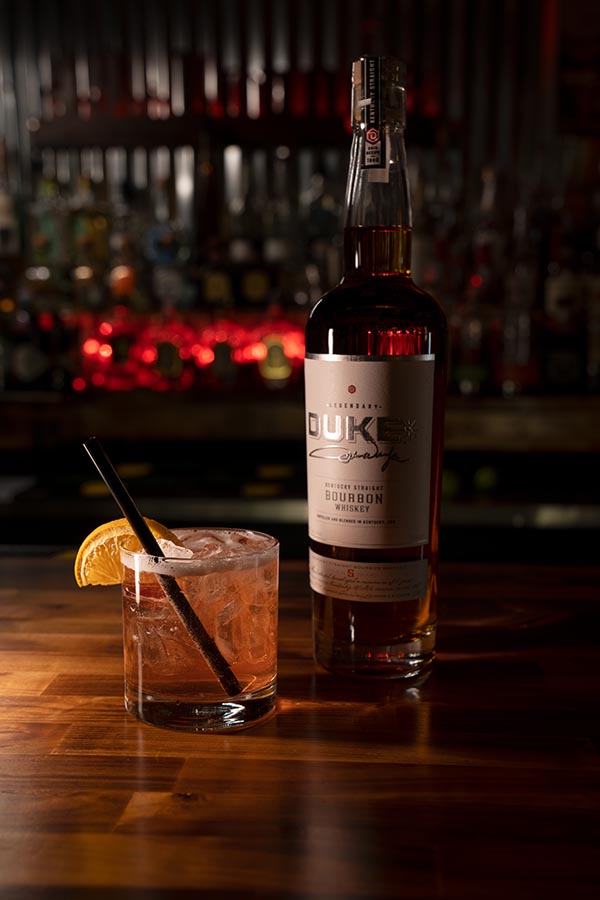 The 49er Lounge
Legend has it that John Wayne once rode a horse into the bar and ordered a beer — for both him and his horse. We can't vouch for the story's veracity, but we do know plenty of celebs passed their movie making downtime right here. Join us and revel in the history and fun.
Hours
We're open 7 days a week from 4pm to 11pm.
RESTAURANT MENU
Breakfast
Serving from 7am to 10:30 Monday thru Saturday and Sunday until 1pm
Huevos Rancheros
Two Eggs, Corn Tortillas, Pinto Beans, Cheddar & Asadero Cheese, Fresh Avocado, Green Chile, House Salsa and Warm Tortilla
El Rancho Classic
Two Eggs with your Choice of Bacon, Sausage or Ham,Hash browns and a Warm Tortilla
The Jack LaLane
A Healthy Start Bravocado Toast, Greek Yogurt and Fresh Seasonal Berries
Chile Verde Benedict
Green Chile sauced Corn Tortillas, Brisket Barbacoa, Pepper Jack Cheese, Fried Eggs, House Salsa and Cotija Cheese
"Elvis" French Toast
Brioche stuffed with Peanut Butter, Bacon & Roasted Banana Cream Cheese, Caramel, Fresh Berries and Toasted Coconut
Santa Fe Crunch Egg Sandwich
Chorizo, Caramelized Sweet Onions, Roasted Poblano's, Avocado, Pepper Jack Cheese, Two Eggs, Crispy Tortillas and a Potato Bun
Have it your way Omelet
Three Egg Omelet, Bacon, Hash browns, Warm Tortilla and your choice of Three Items:  Sausage, Bacon, Ham, Tomatoes, Onions, Bell Peppers, Spinach, Jalapenos, Mushrooms, Cheddar, Pepper Jack, Asadero, Cotija, Red or Green Chile
Gallup Giddy Up Hotcakes
Lots of Silver Dollar Hot Cakes, Sausage, Whipped Butter and Warm Maple Syrup
Monument Valley Enchiladas
Corn Tortillas, Scrambled Eggs, Crispy Potatoes, Chorizo, Green Chile, Cheddar & Asadero, Avocado, House Salsa and Warm Tortilla
---
Side Orders
Bacon, Sausage or Ham
El Rancho Potatoes
Red or Green Chile
Tortilla
English Muffin
Assorted Cereal & Milk
Berries in Season
---
Beverages
Coffee, Hot Tea, Milk, Juices, Navajo Tea
Lunch
Appetizers
El Rancho Chips and Salsa
Salsa with Tomatoes, Onions, Jalapenos, Cilantro, Green Chile, Fresh Lime and House – Fried Corn Tortilla Chips
Baja Guacamole and Chips
Fresh Smashed Avocados, Onions, Tomatoes, Jalapenos, Cilantro, Fresh Lime and House –Fried Corn Tortilla Chips
Chorizo Queso Fundito and Chips
Queso Dip made with Chorizo, Cheddar and Asadero Cheeses, Roasted Poblano Chiles, Corn, Tomatoes and House – Fried Corn Tortilla Chips
Trio of Dips and Chips
Our House Made Salsa, Guacamole and Queso served with House –Fried Corn Tortilla Chips
Grilled Achiote-Citrus Chicken Quesadilla
Large Flour Tortilla Stuffed with Cheddar & Asadero Cheese, Achiote-Citrus Marinated Chicken, Roasted Red Peppers, Black Beans, Green Chile, House Salsa and Sour Cream
Chaco Canyon Chicken Wings:
Crispy Bone in or Boneless Chicken Wings are tossed Christmas Chile and served with Fresh Jalapeno's and Red Fresno's and Jalapeno -Buttermilk Ranch – Bone in/ Boneless
"Duke's" Loaded Nachos
House-Fried Tortilla Chips, Beef or Chicken, Pinto Beans, Roasted Red Peppers, Cheddar & Asadero Cheese, Fresh Jalapenos, Cilantro, Green Chile, Guacamole and Sour Cream
Route 66 Chili Cheese Fries
Crispy Fries, Route 66 Smoky Seasoned Beef, Cheddar & Asadero Cheese and Red or Green Chile
---
Soup & Salads
Pork & Green Chile Stew or Ancho Chicken Tortilla
Cup / Bowl

Leading Lady
Mixed Field Greens, Tomato, Carrots, Jicama, Roasted Green Chiles, Cheddar & Asadero Cheese with Grilled Citrus Chicken and Toasted Pepitas
Santa Fe Cobb Salad
Mixed Field Greens, Julienne Oven Roasted Turkey, Smoked Ham, Applewood Smoked Bacon, Cheddar & Asadero Cheese, GrapeTomatoes, Avocado, Chopped Egg and Jalapeno Ranch Dressing
Pancho Villa
Crispy Flour Tortilla Bowl, Pinto Beans, Choice of Beef or Chicken, Cheddar & Asadero Cheese, Shredded Lettuce, Tomato and Salsa
Katharine Hepburn
BLT Wedge Salad with Iceberg Lettuce, Grape Tomatoes, Applewood Smoked Bacon, Green Chile and Croutons
Testosterone Steak Salad
8oz Black Angus Sirloin Steak, Mixed Greens, Roasted Red Peppers, Grape Tomatoes, Toasted Pine Nuts and Blue Cheese
Choice of Dressings
Balsamic Vinaigrette, Ranch, Jalapeno Ranch, 1000 Island, Honey Mustard, Blue Cheese or Italian Vinaigrette
---
Famous Route 66 Burgers
All Burgers are served with Lettuce, Tomato and Onion on a Potato Bun and a Choice of Fries or Salad. Choice of Cheese is Swiss, Pepper Jack, Cheddar or Asadero. All Burgers Served with Fries or Salad
John Wayne Burger
Half Pound Angus Burger, Baja Guacamole and Asadero Cheese
WC Fields Burger
Half Pound Angus Burger New Mexican Green Chile Cheeseburger
Ronald Regan Burger
Half Pound Angus Burger, Applwood Smoked Bacon, Cheddar Cheese and a Side of Jelly Belly Beans
Roy Rogers Burger
Half Pound Angus Burger with Your Choice of Cheese
Jack Benny Burger
Quarter Pound Angus Burger
Patti Page Burger
Half Pound Angus Burger, Caramelized Sweet Onions and Swiss Cheese
"Here's Looking at You" Burger
Humphrey's Favorite Half Pound Angus Burger Grilled Mushrooms and Swiss
Garden Burger
5oz Black Bean Veggie Burger
---
Custom Sandwiches
All Sandwiches served Fries or Salad
Gallup Club
Oven Roasted Turkey, Smoked Ham, Crispy Bacon, Avocado, Cheddar Cheese, Lettuce, Tomato and Mayo and Choice of White or Wheat
Grilled Achiote -Citrus Chicken Sandwich
6oz Achiote-Citrus Marinated Chicken, Cheddar & Asadero Cheese, Lettuce, Tomato, Avocado on a Potato Bun
Barbacoa Brisket Sandwich
Sliced House Smoked Brisket, Asadero Cheese, Chile Piquin, Onion Rings on a Hoagie Roll
---
El Rancho Specialties
Served with Rice, Pinto Beans, Flour Tortilla and Choice of Red or Green Chile
The Rita Moreno
Three Corn Tortillas with your Choice of Cheese, Beef or Chicken, Cheddar & Asadero, Shredded Lettuce, Diced Tomatoes and Cilantro Lime Crema
Steak & Enchilada
Charbroiled 8oz Black Angus Sirloin Steak with Two Cheddar & Asadero Enchiladas, Shredded Lettuce and Diced Tomatoes
The Armand Ortega
Grand Dad's Go To! Sliced 8oz Black Angus Sirloin, Flour Tortilla, Chile Piquin or Green Chile and Fries
The Desi Arnez
Large Flour Tortilla Rolled with your choice of Bean, Beef or Chicken, Cheddar & Asadero Cheese, Shredded Lettuce, Diced Tomato, Avocado and Cilantro – Lime Crema
The Leo Carillo
Three Corn Taco Shells filled with your Choice of House Seasoned Beef or Chicken, Cheddar & Asadero Cheese, Shredded Lettuce, Diced Tomatoes, Salsa and Sour Cream
Ricardo Montalban
Our Combo Plate, Two Enchiladas, One Taco, One Roasted Pork Tamale, One Bean and Cheese Tostada, Shredded Lettuce, Diced Tomatoes, Salsa and Sour Cream
---
Side Orders
French Fries
Garden Salad
Cup of Fresh Berries
Onion Rings
---
Beverages
Coffee, Hot Tea, Milk, Juices, Navajo Tea, Soda
Dinner
Appetizers
El Rancho Chips and Salsa
Salsa with Tomatoes, Onions, Jalapenos, Cilantro, Green Chile, Fresh Lime and House – Fried Corn Tortilla Chips
Baja Guacamole and Chips
Fresh Smashed Avocados, Onions, Tomatoes, Jalapenos, Cilantro, Fresh Lime and House –Fried Corn Tortilla Chips
Chorizo Queso Fundito and Chips
Queso Dip made with Chorizo, Cheddar and Asadero Cheeses, Roasted Poblano Chiles, Corn, Tomatoes and House – Fried Corn Tortilla Chips
Trio of Dips and Chips
Our House Made Salsa, Guacamole and Queso served with House –Fried Corn Tortilla Chips
Grilled Achiote-Citrus Chicken Quesadilla
Large Flour Tortilla Stuffed with Cheddar & Asadero Cheese, Achiote-Citrus Marinated Chicken, Roasted Red Peppers, Black Beans, Green Chile, House Salsa and Sour Cream
Chaco Canyon Chicken Wings:
Crispy Bone in or Boneless Chicken Wings are tossed Christmas Chile and served with Fresh Jalapeno's and Red Fresno's and Jalapeno -Buttermilk Ranch – Bone in / Boneless
"Duke's" Loaded Nachos
House-Fried Tortilla Chips, Beef or Chicken, Pinto Beans, Roasted Red Peppers, Cheddar & Asadero Cheese, Fresh Jalapenos, Cilantro, Green Chile, Guacamole and Sour Cream
Route 66 Chili Cheese Fries
Crispy Fries, Route 66 Smoky Seasoned Beef, Cheddar & Asadero Cheese and Red or Green Chile
---
Soup & Salads
Pork & Green Chile Stew or Ancho Chicken Tortilla
Cup / Bowl

Leading Lady
Mixed Field Greens, Tomato, Carrots, Jicama, Roasted Green Chiles, Cheddar & Asadero Cheese with Grilled Citrus Chicken and Toasted Pepitas
Santa Fe Cobb Salad
Mixed Field Greens, Julienne Oven Roasted Turkey, Smoked Ham, Applewood Smoked Bacon, Cheddar & Asadero Cheese, GrapeTomatoes, Avocado, Chopped Egg and Jalapeno Ranch Dressing
Pancho Villa
Crispy Flour Tortilla Bowl, Pinto Beans, Choice of Beef or Chicken, Cheddar & Asadero Cheese, Shredded Lettuce, Tomato and Salsa
Katharine Hepburn
BLT Wedge Salad with Iceberg Lettuce, Grape Tomatoes, Applewood Smoked Bacon, Green Chile and Croutons
Testosterone Steak Salad
8oz Black Angus Sirloin Steak, Mixed Greens, Roasted Red Peppers, Grape Tomatoes, Toasted Pine Nuts and Blue Cheese
Choice of Dressings
Balsamic Vinaigrette, Ranch, Jalapeno Ranch, 1000 Island, Honey Mustard, Blue Cheese or Italian Vinaigrette
---
Famous Route 66 Burgers
All Burgers are served with Lettuce, Tomato and Onion on a Potato Bun and a Choice of Fries or Salad. Choice of Cheese is Swiss, Pepper Jack, Cheddar or Asadero. All Burgers Served with Fries or Salad
John Wayne Burger
Half Pound Angus Burger, Baja Guacamole and Asadero Cheese
WC Fields Burger
Half Pound Angus Burger New Mexican Green Chile Cheeseburger
Ronald Regan Burger
Half Pound Angus Burger, Applwood Smoked Bacon, Cheddar Cheese and a Side of Jelly Belly Beans
Roy Rogers Burger
Half Pound Angus Burger with Your Choice of Cheese
Jack Benny Burger
Quarter Pound Angus Burger
Patti Page Burger
Half Pound Angus Burger, Caramelized Sweet Onions and Swiss Cheese
"Here's Looking at You" Burger
Humphrey's Favorite Half Pound Angus Burger Grilled Mushrooms and Swiss
Garden Burger
5oz Black Bean Veggie Burger
---
Custom Sandwiches
All Sandwiches served Fries or Salad
Gallup Club
Oven Roasted Turkey, Smoked Ham, Crispy Bacon, Avocado, Cheddar Cheese, Lettuce, Tomato and Mayo and Choice of White or Wheat
Grilled Achiote -Citrus Chicken Sandwich
6oz Achiote-Citrus Marinated Chicken, Cheddar & Asadero Cheese, Lettuce, Tomato, Avocado on a Potato Bun
Barbacoa Brisket Sandwich
Sliced House Smoked Brisket, Asadero Cheese, Chile Piquin, Onion Rings on a Hoagie Roll
---
El Rancho Specialties
Served with Rice, Pinto Beans, Flour Tortilla and Choice of Red or Green Chile
The Rita Moreno
Three Corn Tortillas with your Choice of Cheese, Beef or Chicken, Cheddar & Asadero, Shredded Lettuce, Diced Tomatoes and Cilantro Lime Crema
Steak & Enchilada
Charbroiled 8oz Black Angus Sirloin Steak with Two Cheddar & Asadero Enchiladas, Shredded Lettuce and Diced Tomatoes
The Armand Ortega
Grand Dad's Go To! Sliced 8oz Black Angus Sirloin, Flour Tortilla, Chile Piquin or Green Chile and Fries
The Desi Arnez
Large Flour Tortilla Rolled with your choice of Bean, Beef or Chicken, Cheddar & Asadero Cheese, Shredded Lettuce, Diced Tomato, Avocado and Cilantro – Lime Crema
The Leo Carillo
Three Corn Taco Shells filled with your Choice of House Seasoned Beef or Chicken, Cheddar & Asadero Cheese, Shredded Lettuce, Diced Tomatoes, Salsa and Sour Cream
Ricardo Montalban
Our Combo Plate, Two Enchiladas, One Taco, One Roasted Pork Tamale, One Bean and Cheese Tostada, Shredded Lettuce, Diced Tomatoes, Salsa and Sour Cream
The Pedro Infante
Two Cheese & Bean Filled Poblano Chiles Battered and Deep Fried served Shredded Lettuce, Diced Tomatoes and Cilantro- Lime Crema
The Robert Taylor
Three Chimayo Red Chile Roasted Pork Tamales, Shredded Lettuce, Diced Tomatoes, Salsa and Sour Cream
El Rancho Fajitas
Your Choice of Black Angus Sirloin, Chicken Breast or Jumbo Gulf Shrimp with Grilled Onions and Peppers, Guacamole, Pinto Beans, Shredded Lettuce, Diced Tomatoes and Sour Cream
---
Side Orders
French Fries
Garden Salad
Cup of Fresh Berries
Onion Rings
---
Beverages
Coffee, Hot Tea, Milk, Juices, Navajo Tea, Soda
Dessert
Warm Apple Crisp with Ice Cream
Churros with Caramel Sauce and Ice Cream
Hot Chocolate Lava Cake with Strawberry Sauce and Fresh Berries
Old Fashioned Carrot Cake with Caramel Sauce and Whipped Cream
"Route 66 Banana Split" with Choice of Ice Cream, Chopped Nuts, Jelly Beans, Chocolate & Caramel Sauce, Whipped Cream and Cherries on Top
Ice Cream with Salted Caramel Sauce
Kids Ice Cream Sundae with Chocolate & Caramel Sauce, Whipped Cream and Cherries on Top
"Thank you horseradish, for being neither a horse
or a radish. What you are is a liar food."
Jimmy Fallon